Government
Government sector in emerging marketplace is facing new challenges. Dhanush has wide assortment and variety vertical focus solutions, Dhanush products and expertise enable government organization achieve business goals and succeed amidst the fiercest competition.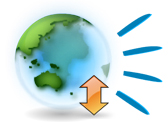 Indeed public service organizations have realized the potentiality of technology to remove complexity across a full range of business processes. At Dhanush, we understand the importance to improve efficiency and enhance the performance of the process and therefore, we offer technological services which removes complexity.

The result is more flexibility and greater efficiency in the face of formidable challenges. Customers in this sector already trust us to process workers' compensation claims. When required, we can also process payroll, learning and development, recruitment, and HR administration as well as offshoring services which can deliver advantages including speed to market, back office transformation, on-demand business, improved customer service and cost optimization.

We help governments, to:
Enhance citizen services
Move into new delivery channels
Improve accountability and compliance
Improve the overall wellbeing of citizens
Service Offerings
Our service offerings and capabilities include:
E-Procurement
Health & Human Services
Transportation Management
Case Management
Constituent Relationship Management
Citizen Services Transformation
Utility Billing
Registration
Citizen's Profiling and Services
Differentiators
Experience: We have extensive global experience in developing comprehensive solutions across governments, public-sector entities and security establishments. Through our technology and industry verticals, we have vast expertise across a number of technologies and sectors around the world. Our initiatives have helped governments globally to offer anytime, anywhere services to their citizens, improve delivery efficiency, save costs, reduce wastage and expand their revenue base.

Smart blend of management and technology expertise: Our experience of working with governments across the world gives us the advantage of knowing the requirements and building value-added solutions with a perfect blend of management and the technological know-how. We follow a comprehensive end-to-end approach to deliver a project within the shortest possible time frame.

Ready-to-Use Assets: Our ready-to-use assets and frameworks ensure that our solutions yield customer benefits such as reduced total cost of ownerships, accelerated implementation cycles and reduced business risks.